Gift Guide: Father's Day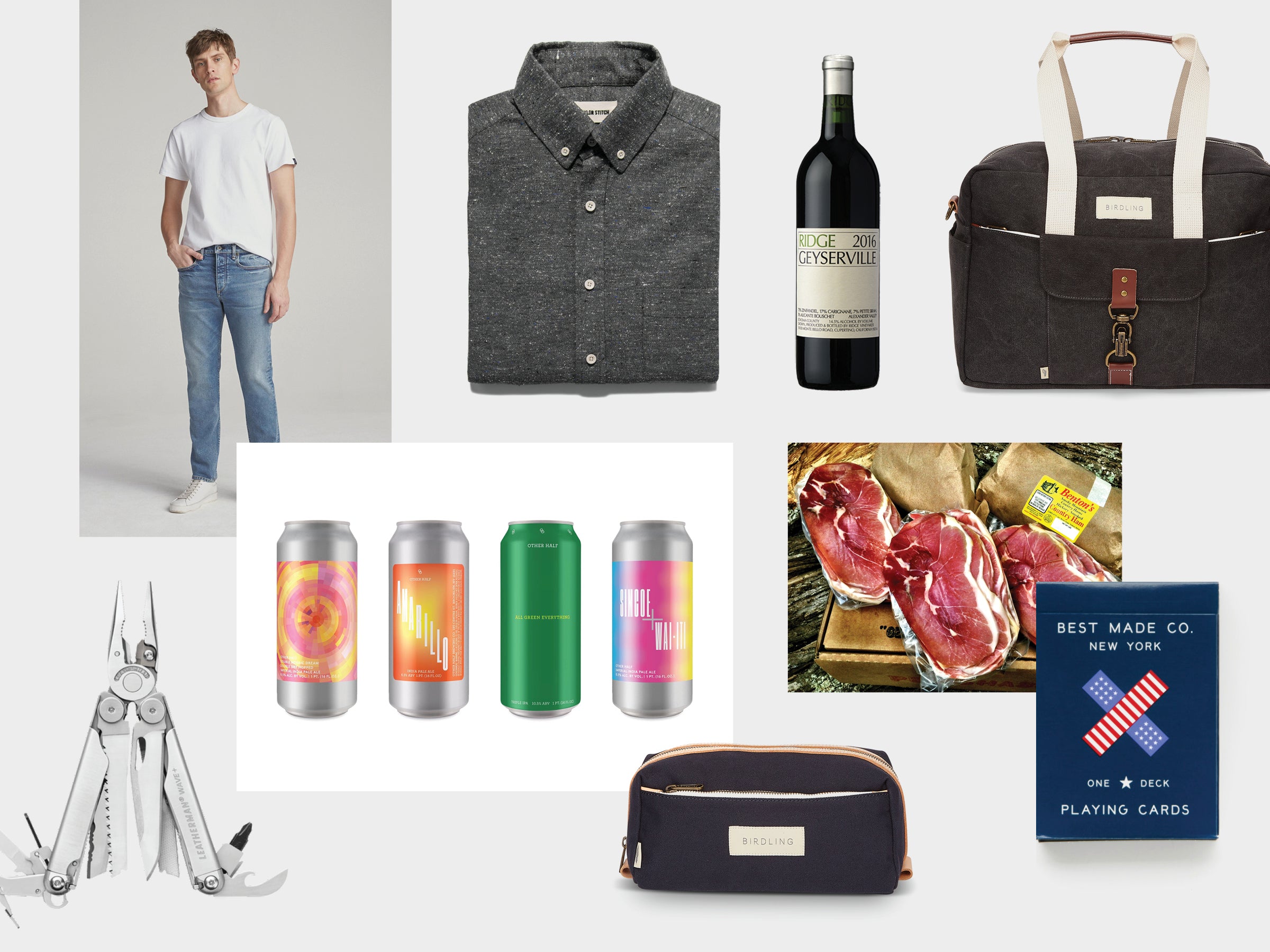 Men already seem to have everything they need (perhaps us ladies should take note), so buying a gift that will wow them rather than one that will end up lost with the dust bunnies under the bed or abandoned in a dark corner of the garage can seem like a daunting task. How many ties does one man need? Another sports tee that will eventually fade and get holes in the armpits? Socks? A weed wacker? A mug with your beautiful face on it? Ok, ok, maybe that last one is a pretty great idea, but there has to be more, right?
I ask myself this question every year when birthdays and holidays roll around, yet every year I'm usually left scratching my head and procrastinating, eventually resorting to my kids for suggestions on what they think daddy would like. This year, however, I am prepared for Father's Day. I will not procrastinate, I will not rely on my kids for ideas, and it will be a WOW gift. To make this happen, I consulted with one of Birdling's own stylish, in-the-know husbands on what men would REALLY like for Father's Day.

Spoiler: that mug didn't make the list.



Travel Gear

1. Overnighter: Perfect for a weekend away and just big enough for a week-long vacation, with casual charisma to boot.

2. Essentials Kit: A vast improvement over the plastic bag I used to throw my toiletries in. A ton of interior pockets, so there's a spot for everything.


Garb

3. Classic Pocket Sweatshirt: For the man who grew up in Champion sweats, here's his chance to rock a similar, albeit more stylish, version.

4. The Jack Shirt: The perfect shirt for any occasion in a comfortable, slim-fit style.

5. Sneakers: Everyone needs a pair of white kicks for the Summer. Vans are great, but they often fall apart and aren't always the most comfortable option. The Nike Blazer has the right look and won't kill your feet when you're walking the pup.

6. Jeans: These are definitely a splurge. Expensive, yes, but glorious. Pro tip: wait for them to go on sale.


Foodie

7. Thermapen: Hands down the best meat thermometer in the game. When you're BBQ'ing on the big day, rocking your white Air Monarch's with cargo shorts and shooting finger pistols at the neighbor, you're gonna want this meat thermometer by your side.

8. Meat: The best country ham and bacon you can find. If it's good enough for David Chang, it's good enough for me.


Coffee

9. Spectrum Coffees: Great coffee sourced brilliantly from all over the world and roasted in the current coffee capital of Brooklyn, NY.


Wine

10. Ridge Geyserville: Expensive, but still a good value. This huge red is great on its own or with any heavy, manly dinner you may have planned for Father's Day.

11. Ken Wright Pinot Noir: Any and every Pinot Noir you can find made by this man is delicious. He mostly makes single vineyards that retail for $50 - $60, but he also makes a Willamette Valley Pinot that can retail for as low as $24.


Beer

12. Other Half: These guys have been cranking out amazing stuff since they opened their doors in 2014. Unfortunately, distribution is pretty limited to NYC at this point. If you don't have a delicious brewery within 50 miles of your house, you should consider moving.
Outdoorsman

13. Leatherman: Every man should have a Leatherman. As a father, there is no high greater high than being able to reach into your pocket, grab your Leatherman, and save the day. It's the little things, people.

14. Hiking Boots: If you want to look like you know what you're doing when you don't know what you're doing on that Father's day hike with kids, these are the boots for you.


Odds and Ends

15. Best Made playing cards: I love these playing cards, and they're about the only thing I can afford from these guys.



The Holy Grail of Father's Day Gifts

16. Nike Air Max 1/97 Sean Wotherspoon: Items like these sneakers are always overhyped and overpriced, and this case is no different. However, if you have an extra $500 to $1,000 burning a hole in your pocket, these sneakers are the perfect way to blow it. Sean Wotherspoon's design won the publicly voted RevolutionAir contest and he has proven why you give the power to the people. Read his interview here.