Travel Guide: Andes, NY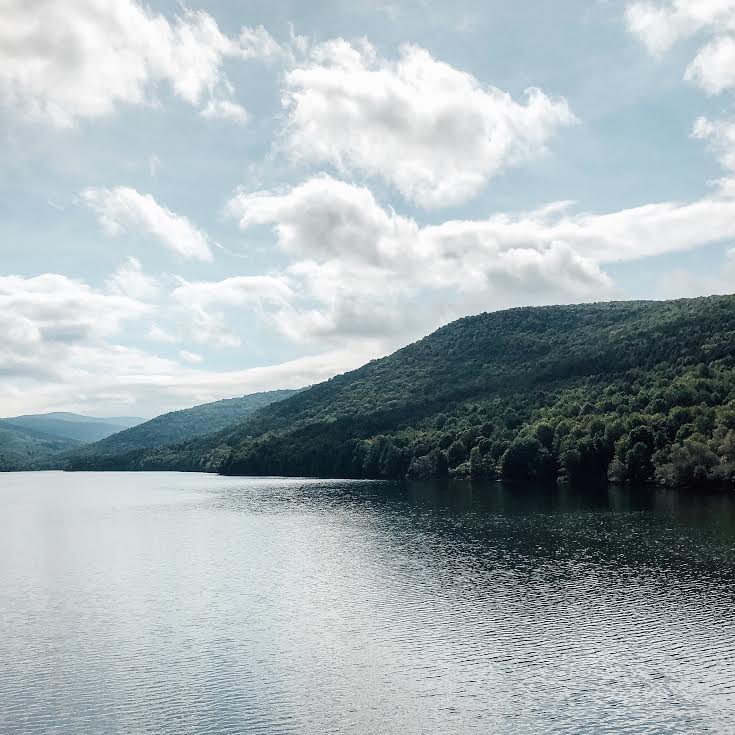 We may be under a heat advisory at the moment, but Fall is all we can think about. One of our favorite places to go during prime leaf peeping season is Andes, NY, which is located in The Catskills (just under 150 miles from NYC). Columbus Day Weekend is the best time to head up north this year (yes, we checked Google) to view peak Fall foliage, so you should start planning your trip today. We've got you covered on where to stay, eat, drink, and shop!
WHERE TO STAY
The DeBruce: With its 14 guest rooms, access to hundreds of acres of private land spanning two mountains, a river, several ponds and a private pool, The DeBruce is a beautiful place to stay, dine, and explore. Located about 30 minutes from Andes.
Andes Hotel: Located right on Main Street in downtown Andes, you can snag an affordable room right in the middle of town and enjoy some burgers, wings, and beers on the porch!
Airbnb: Always plenty of options to choose from there!
WHERE TO EAT AND DRINK
Brushland Eating House:  Brushland was practically founded on the idea that the house that provides the food should be as comforting as the dishes served inside of it, and we think they've achieved that goal. It's cozy atmosphere matches the nostalgic, simple dishes of your childhood it serves. There's nothing better than enjoying a simple, delicious meal and wine with friends in a cozy restaurant, in our opinion! 
Wayside Cider and Taproom: Hands down our favorite place in Andes. You can enjoy small bites and cider brewed from their local orchard while listening to live music around the fire pit. A great place to bring the kids, too!

The Kaatskeller: Located in Livingston Manor, this is a great spot to stop when you get off the highway before you finish making your way to Andes. There are lots of games for the kids to play and a fire pit to enjoy while you wait for your wood fired pizza.
Upstream Wine & Spirits: Located across from The Kaatskeller, drop in to pick up a few bottles from their eclectic wine selection and check out next door at Main Street Farm to pick up fresh eggs, cheeses, charcuterie, meats, and speciality groceries before checking into you Airbnb.
Catskill Brewery: Stop in for a growler from one of the greenest breweries on the planet.
WHERE TO SHOP
Kabinet & Kammer: A beautiful antique shop to browse and get lost in on a Saturday afternoon.
Clementine Vintage Clothing: The place to go if you're a fan of old, cozy sweaters and flannels! 
Stephanie Charlene Ceramics: We'll take one of everything, please! 
OTHER THINGS TO DO
Beaverkill Trout Hatchery: A great place to take the kids for a few hours during the day. You can fish (best fishing is in April) and pay extra to have them prepare whatever you catch. If you're lucky, you might even catch a glimpse of a bald eagle.
The Delaware River Club: Requires no membership and has activities for the whole family, including private hiking trails, fishing, sprawling green lawns, a swimming pool, and a private fishing pond. 
Fire Tower Hike: Not an easy hike, that's for sure, but if you're feeling ambitious and want to work off all the good food and drinks you imbibed over the weekend, go for it!
Delaware & Ulster Railroad: If your kids are fans of trains and cops and robbers, check this out. They do mock train robberies that end with a barbecue.
WHAT TO LISTEN TO
Whether you're taking a scenic drive or hanging out around the fire pit, we've got the perfect playlist for you. We're calling this one our Cabin Tunes.
THE PERFECT TRAVEL COMPANION
Aside from your friends and family, of course! The Mini Day Tripper will take you from fishing to shopping and everything in between.